📝 [TUTORIAL] SEVERAL SCRIPTS IN ONE RESOURCE | -FIVEM- | 📝
STARTING MULTIPLE SCRIPTS IN ONE RESOURCE

Let's start ...

Now I have my 3 selected scripts here.
Now let's go into the fxmanifest which looks like this:
In this way, all files with the names "client.lua" or "server.lua" can be started without having to list them all individually. IMPORTANT: (only works if your client and server files have the same name)
Now it has to look like this with you
Another option is to declare each file separately.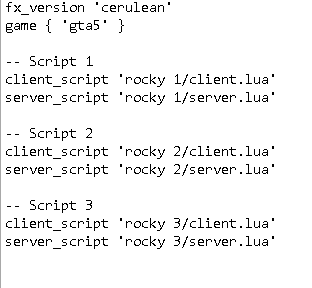 That was it again

Have fun